I came to Joe with an old lower back injury that I've been struggling with for years. He was very friendly and understanding, and after a quick examination had no trouble identifying the cause of the problem.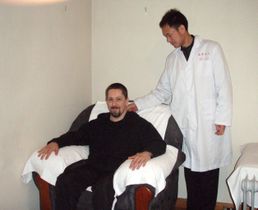 Joe immediately started treatment, which included suction cups and acupuncture. Even after the first session, I started to feel better, most of the pain was gone and I experienced improved mobility after every session.
He also started treating two other injuries that I picked up shortly after our first few sessions. One is inflammation of the Ulnar nerve in my left wrist, and "tennis" elbow in the right arm. The acupuncture did wonders in lessening the inflammation and pain. The treatments were planned weeks in advance, with 2-3 sessions a week, up to an hour per session.
Throughout all of this, Joe and his staff remained professional, friendly, and very accommodating.
Traditional Chinese acupuncture works wonders for all ailments, because while treating the root of the cause, it is also provides pain relief.
I am forever grateful for all Joe has done, and can truly recommend Nine Life Land Acupuncture for all your ailments.
Mr Riaan Coertze  
Howick
---