I have had 'chronic' illnesses throughout the latter part of my life, being – Parkinson's; Rheumatoid Arthritis; Osteoporosis; and a collapsed vertebra in my spine.
As a result I have related constant pain through my right buttock; thigh; knee – which is predominately painful when standing for any length of time.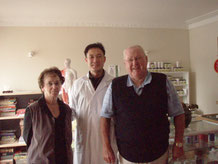 After viewing the information provided through my regular Medical Practice on the values of 'acupuncture' in assisting some such problems, I decided, after consulting my GP and husband, to take a course, on a trial basis, with their recommended qualified specialist – Acupuncturist Joe Zhou in Pakuranga Road.( Moved to Botany road in 2012)
 .......
I am now walking much better, not appearing so stopped, and sleeping right through the night.
I do not hesitate to commend Joe himself for his expertise, and am prepared to encourage other people to seek this alternative assistance, if approved by their own GP.
Mrs Doreen Harnett
Flat Bush
Manukau City 2016
---